Capabilities
Our facility works with a full range of materials including: Aluminum (sheet stock and extrusions), Cold Rolled / Galvanized & Stainless Steel, Copper and Fiberboard. Our expertise resides in CNC, punching, brake forming, saw & laser cutting, drill & tapping, line-graining, welding (MIG, TIG and Spot), milling (3 & 4 axis), and hardware insertion. We use environmentally friendly closed loop system for Chemical Filming. Our capabilities include; clear and gold iridite, passivation, anodizing and plating. We also paint (both wet and powder-coating) along with silkscreening.

Sheet Metal Fabrication
Precision sheet metal fabrication using the latest technologies in metalworking, we are continually expanding and upgrading our own manufacturing processes to assure that we can offer the capability and capacity you are looking for.


Laser Cutting
Advantages: Precise, clean cutting and often does not require further processing. Ideal for carbon and stainless steel ,sheet metal, and intricate patterns. A fast, repeatable and highly accurate process which is ideal for low and high production runs.

Technology: A computer controlled high power laser beam is focused on the workpiece and the resulting heat energy melts or vaporizes the material. Any resulting molten material is blown way by pressurized gas during the cutting process creating a high quality edge.


Certified Welding
Sheet Metal Service is fully equipped with today's latest equipment and techniques to meet our customer's specifications. An appropriate welding quality system is the foundation of delivering a quality welded product or service. Utilizing American Welding Society AWS standards, Sheet Metal Service's certified welders and inspectors assure that daily manufacturing operations are more consistent and traceable. This system also allows for new weld procedures to be written as necessary to meet specific customer requirements.





Metal Finishing & Painting
Metal finishing services for all metallic substrates.

Certified Commercial Painting, Military ASTM Painting, Aerospace Specs Painting




Silkscreen Capabilities
Sheet Metal Service provides silkscreen capability to further control quality and delivery. We can design your artwork from scratch or utilize existing artwork or supplied silkscreen. Silkscreen colors can be matched to any pantone number you provide.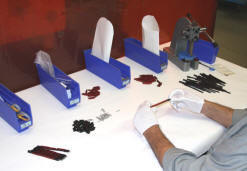 Mechanical Assembly
We provide full assembly capabilities and specialize in low volume, high mix markets where uneven demand challenges the most experienced company in the key areas of: Quality, On Time Delivery and Cost. We excel in all 3 categories, offering unmatched customer service through the entire product lifecycle. Manufacturing, quality and supply chain teams work together to provide you a competitive advantage with a high quality product, at a competitive price, when you need it. Once the product is built and tested to your specifications, our engineers will provide documentation and technical support as needed. Our customer service practices provide you with individualized service every step of the way.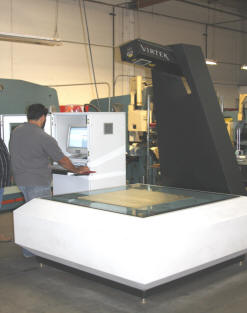 Quality
Sheet Metal Service is an ISO 9001:2008 Certified facility. Our use of Lean techniques ensure we're using "best in class" manufacturing processes. To eliminate process variation, we use Six Sigma principles and tools when dealing with precision products, both standard and custom. These principles and tools deploy a rigorous scientific method to define improvement opportunities, implement robust processes and sustain our gains. As our company motto states, Quality excellence is our top priority. We use state of the art equipment including CMM and Virtek machines to ensure quality at every step of the manufacturing process.
Request Information